DLR's Scéal Trail is the first outdoor 'story walk' in Ireland to be delivered by either public libraries or as a private initiative, bringing the library service to the outdoors and into the public realm. A scéal trail or story walk is a picture book delivered in an exhibition format that you can follow, from beginning to end, as you walk with your family or friends.
What's the story?
Our very first Scéal Trail is a beautiful book written by Sadhbh Devlin, the dlr Writer in Residence 2019-2020; written during her residency and created on the top floor of dlr LexIcon! Geansaí Ottó is a wonderful story, illustrated by Roisin Hahessy.
It follows a little mouse boy called Ottó on a journey he makes through a forest path towards his grandmother, who loves to knit beautiful gifts for him. Otto really dislikes these hand-knitted woolly jumpers and decides he is going to tell his grandmother so as he sets off into the woods. Geansaí Ottó is written in Irish but we included English translations to make the Scéal Trail bilingual and accessible for all. The first dlr Libraries Scéal Trail was located outside dlr LexIcon, Dún Laoghaire.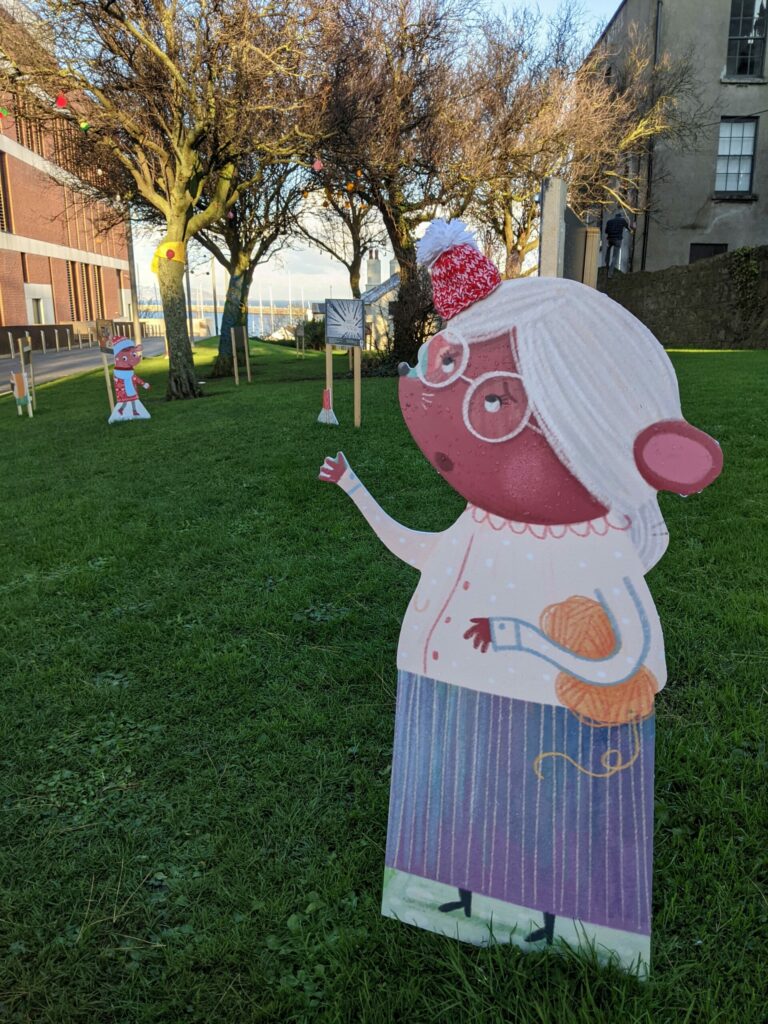 Why a Scéal Trail?
To encourage reading in an outdoor setting
To promote the use of books beyond the confines of our library spaces
To advertise the dlr Writer in Residence Programme and to showcase the great work the residency gives possibility to
To encourage intergenerational engagement where parents, children, grandparents, siblings and friends can engage together with a book
This was of particular relevance during the Covid pandemic in 2020. We launched dlr Scéal Trail on 21 October 2020 ahead of Ireland moving to Level 5 restrictions on 22 October.
To enliven the Scéal Trail we asked a local knitter and facilitator to 'yarn bomb' the tree-lined area where the Scéal Trail was located. We also created an associated online programme of events that were delivered via Zoom into local schools in dlr. In December 2020 we further decorated the area by creating window art from the areas in dlr LexIcon that overlooked the Scéal Trail, as well as hanging Christmas lights from the trees with further yarn bombing of the cut-out characters with winter hats, scarves and gloves to give a festive feel to the Scéál trail.
Find out more about the Scéal Trail here.